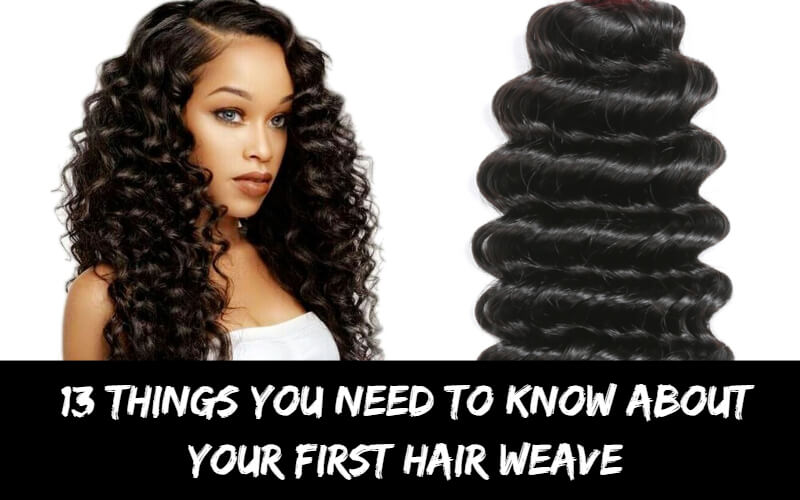 So you want to try out getting a weave? Although exciting, we know it can be overwhelming and we are here to help you out. Weaves are either synthetic hair (made of fibers) or human hair (mink hair) extensions that are added to your hair using different methods, adding length, texture, and volume.
The top factor for getting a weave is to protect your natural hair from outside elements while allowing your hair to rest. Another key factor is the ability to make the weave look natural. If you are scheduled to get your first hair weave, or you just need a refresher, here are 13 things you need to know about your first hair weave.
Weave Word Glossary
As weave has become mainstream and a million-dollar industry certain things have been abbreviated and hair industry slang has been created. Let's go over the popular terms that are used. Try remembering these terms during the process of purchasing hair.
Remy Hair or Remi Hair: This is a hair weave that is cut with the cuticles falling in the same direction. This hair does have some chemical alterations like coloring or perming.

Virgin Hair: This hair is exactly what it says virgin hair. The hair is cut with the cuticles falling in the same direction and it is in its natural state.

Hair Weft: This is used to keep the hair held together using threads. There are hand-tied wefts, tied by someone's hand and there are machine-tied wefts done by a machine. Hand-tied wefts are desired more due to it looking more natural than machine tied, and cost more due to the amount of time.

Pre-Bonded Hair Extensions: These extensions are connected using a bonding agent, keratin being the most common. There are I-tipped and U-tipped extensions.

Extensions: They are natural or synthetic, usually taped, sewn, or clipped in to add length, volume, and protection.

Leave Out: This is the portion of your hair that is left out covering the weave. When wearing a weave leaving your hair out gives you a natural look due to your hairline and scalp looking visible.

Closure: This is a circular piece of weft hair, used to cover the tracks showing. They're usually made with lace or silk material.

Frontal: These are made from the same material as a hair closure. Frontals cover a larger portion of the head and create a hairline, going from ear to ear.
The Variety Of Weaves Textures
There are various types of weaves textures and they are characterized by various wave patterns and texture types.
Peruvian hair is known best for its multi-purpose texture. Peruvian blends immaculately with African American hair! This texture is most sought after due to it being free-flowing, lightweight, and luxurious.
This is the thickest texture and suits women with natural hair. The best perk about Indian hair and the luster of the hair is very natural. Indian hair offers wavy, tight curls, and wavy hair.
Malaysian texture is extremely soft and blends well with relaxed hair as well as fine hair. Malaysian hair is low maintenance and easy for anyone who wants something extremely manageable.
Brazilian hair texture is the most sought-after texture with African American women. Brazilian hair is known for it is extremely thick and extremely fabulous.
Mink hair is of the highest quality of hair. Black Show Hair ensures that your mink hair is luxuriously full, thick, and offers lots of lusters. Just like virgin hair, mink hair follicles flow in the same direction.
Human Hair or Synthetic Hair?
For a durable, luxurious, fashionable look, always choose virgin hair.
Human hair is exactly what it says, human hair from a human donor. It is soft, durable, and can be matched easily with your hair and hair color. With human hair, you have the ability to style your hair with hot tools vs with synthetic, the inability to do so. When thinking of quality, remember you get what you pay for.
Synthetic hair does not work well with heat although some synthetic brands allow low-temperature heating tools. However, remember it is plastic and does melt.
How Much Hair Will I Need?
Depending on the style, texture, length, and volume. This will dictate the number of bundles you will need to purchase. Usually, three bundles are used for a weave. With three bundles ranging from eight to eighteen inches in length. This ensures your hair is glamorous, full, and flowing. However, if you have anything past eighteen inches opt for four bundles.
Single Drawn Hair vs Double Drawn Hair
The density of your bundles is measured in two ways, single-drawn hair and double-drawn hair. There are pros and cons to each, and your preference is determined by many factors.
Single-drawn hair is cheaper and is made up of fifty percent length and fifty percent staggered lengths. If you plan to wear curly styles this is the option for you. Double-drawn hair is made up of eighty to ninety percent strands of full length. This is the perfect option for individuals looking for voluminous hair.
How To Choose What Weave To Purchase?
When thinking of what weave to purchase, think about your lifestyle and preference. Do you like curly voluminous hair or bone straight hair? What is your budget and is the hair affordable? Start by googling hair textures you are interested in. Browse through various photos looking for inspiration. Shop Black Show Hair for all your weave needs.
Methods Of Attaching Weaves
Sew-In:The weave is braided down using a needle.

Sew-In With Net: This method is the same as a regular sew-in, however, a net is used for extra protection.

Hair Bonding:Hair is parted into sections and the weft is glued unto the scalp.

Fusion: Hair is attached to strands using wax and hot tool.
Bobs

Long straight sleek hair

Long brown curls

Deep side parts

High ponytails

Middle part weaves
How To Pick A Style?
You should consider your face shape, making your face look round with a hairstyle is always the goal.
Long Face Shape: Try a style that is chin length and curly

Square Face Shape: Try a shoulder-length style straight or curly

Round Face: Any style is suitable

Oval Face Shape: Try a straight long style
How Do You Maintain A Weave?
Make sure to tie your hair up nightly, this helps avoid knots and snagging. Also, brushing your hair regularly will avoid this issue as well. When washing your weave, use products specified for the weave. Moisturizing goes a long way so do not over moisturize your weave or use heavy oils.
How Long Should You Keep Your Weave?
The average time of recommendation is two months with touching up the hair every two to four weeks. Make sure you invest in durable, virgin hair.
Remember your hair underneath the weave, this is a protective style to make your hair longer and stronger, don't neglect it. Be sure to deep condition your hair prior to getting a weave. Lastly, make sure your scalp is moisturized with oils.
Do Not Neglect Your Scalp
Use a silk scarf to wrap up your hair. When doing activities that make you sweat be sure to wash and blow-dry your hair if excessively sweating. Not doing so will cause fungus to grow.