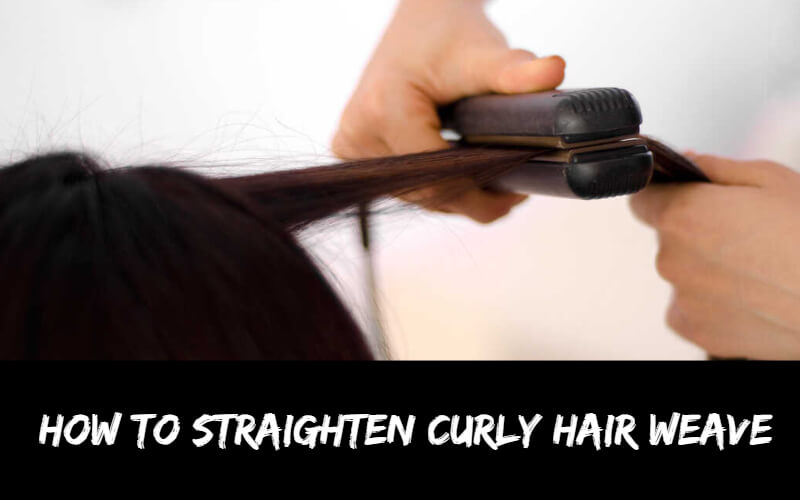 Can I straighten a weave?
The welcome answer is that, yes, you absolutely can! Provided it's 100% human hair weave – your weave will survive straightening just fine. Needless to say, synthetic hair cannot withstand the heat of straightening tools and chemicals.
Of course, there are also methods to soften and control curls without heat.
How to straighten a curly weave without heat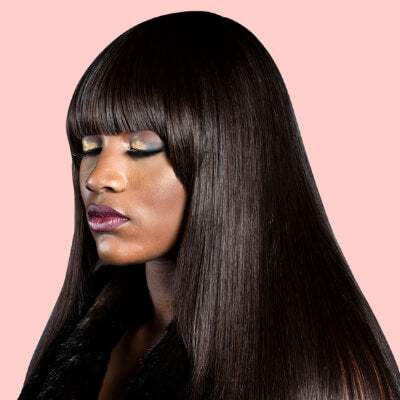 If you have the time to wait for your hair to dry naturally, you have a few options where you don't need to use a flat iron.
The most important aspect here is to remember that this option will only work if you have soft curls or waves and medium to fine hair, as tight curls always require some heat.

The other essential thing you must remember is to use sulphate-free products. Start with your carefully selected shampoo and wash and condition your hair gently.

Now, you can dry it carefully with an absorbent towel, such as the Aquis brand of towels, to help avoid frizz.

Gently work a soothing cream or leave-in conditioner through the strands or finish off the washing process with a smoothing serum or oil of your choice.

Now, take a paddle brush, gently brush through the curls from top to bottom, and pull the hair down with your hands every few minutes.

At this stage, you could dry your hair with the drier set to cool until it's a bit drier but still damp - then wrap your hair around your head – and wait. Or do it before going to bed and rise and shine in the morning with sleeky and silky hair:

Wrapping hair is not as difficult as it sounds – (the technique is called toca). Divide the hair into sections and pin them around your head with bobby pins making sure to go all the way round depending on the length. There are many videos demonstrating this technique but remember it won't work for tight curls or short hair.

Once the hair is wrapped neatly, you may want to consider using an Aquis turban to keep it all in place until it's dry.

It can take hours for hair to dry this way, but the results make it worthwhile. The 'undone' look is on runways everywhere at the moment, and this technique is ideal for achieving that style.

Alternatively, you can insert large hair rollers into damp hair to remove most of the curls, but it probably will only be successful with loose curls and soft waves.

The other option is to dry the hair with cold air and no product. Blow wave like you would usually do it but keep the temperature cold and use a big brush and your fingers to get the hair straight. Once the hair is completely dry, you can use a dab of coconut oil or any natural smoothing product to tame frizz and relax the hair cuticles.
What type of human hair weave can you straighten?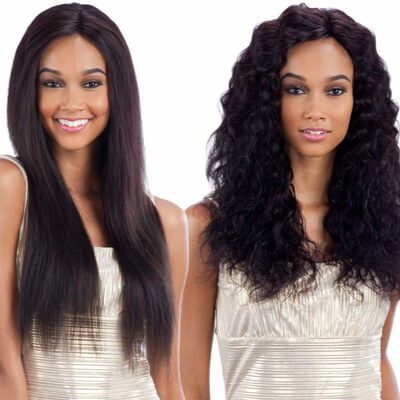 Most types of curls can be sleeked down with a flat iron, and the most popular hair weaves for straightening are:
Brazilian:The Brazilian weave is incredible and suits most African American women. The texture is thick and full and looks stunning in a loose wave. They come in short and curly styles too.

Peruvian:Peruvian hair is light but full and provides abundant curls, whether you prefer them loose or tight.

Indian:Indian hair is always a great option; it is strong and thick and naturally shiny and comes in straight, wavy, and tight curls.

Malaysian: This hair type is silky and delicate, easy to manage, with loads of glossy shine.

Eurasian:This hair type is derived from people with a combined ascent from Europe and Asia. It is very thick and lends itself best to wavy styles.
Step-by-step straightening of your curly weave
As we've already mentioned, styling your weave and using flat irons and other tools is only successful on virgin human hair.
Step 1 – prepare your hair
Use a gentle brush to remove any knots or tangles to prevent breakage – as some of you will know, wet hair is very susceptible to breakage.
Next, you'll need a wash with quality shampoo. Always use the most natural shampoo you can afford – make sure your shampoo is paraben-, sulphate- and petroleum-free. Gentle herbal shampoos containing only natural products like jojoba and essential oils derived from nature are your best bet. This will nourish your hair, and you'll get many compliments for smelling lovely to boot.
After washing, you should apply a mild conditioner to help keep those tresses straight. It's clever to look for a conditioner that contains loads of nutrition for the hair follicles. Think hazelnut and Argan oil, Vitamin A, B5, B12, C & E. Aloe Vera is another great choice for hair nutrition.
Use a wide-toothed comb to work the product through your hair and work softly to remove any tangles. Remember to always start at the tips and work your way up from there to avoid pulling and tugging, which will damage the hair.
To max the shine, many girls swear by a final rinse in cool water.
Step 2 – drying
To ensure the best outcome for sleek hair, it's advisable to blow dry it first – or if you have time on your hands, let it dry naturally while you take care of your outfit and makeup or do your nails.
It's absolutely necessary to apply a heat protector on your human hair weave – if it gets damaged or burned, you won't be able to reverse it. Don't overdo it when applying the product, though – or else your hair will end up looking greasy and lifeless and fall flat before you even walk out the door. So, use only a very tiny amount!
As with all beauty products, it's safest to go natural with a heat protector. Here, again, Argan Oil and Moroccan oil are great options. There are many hair products available these days, so it can become confusing, but if you stick to the most natural you can afford, you'll look beautiful every time and keep your tresses gorgeous for a long time.
Step 3 – straightening
To ensure that you work methodically and reach all your hair, separate the hair into four sections with clips. You can find many cost-effective hairdresser quality accessories online or at your local beauty supply store. The longer your hair, the bigger and stronger the clips must be to ensure a comfortable process.

Switch on your flat iron and keep the heat setting low. You would do best with a good quality ceramic flat iron for your weave, and don't let it get too hot – a max heat of 350 degrees is perfect!

Titanium flat irons are light and easy to use too. However, they could become too hot for delicate hair types like Malaysian hair.

Sit in front of a mirror, begin with one of the hair sections and quickly draw the iron down from the roots to the tips. Depending on your hair texture, you may have to run the iron through the hair more than once. Finer textures like Malaysian hair will relax and lose curls much easier than thicker hair, such as Brazilian hair.

Continue doing this, section by section, until you're satisfied. If you have very long and abundant hair, you may want to ask a friend to help you reach the back of your head for convenience and to make the process quicker.

Please always remember to switch off the iron afterward!
Although sleek hair is beautiful, we don't recommend using a flat iron or any heat devices on your weave every day. If you adore straight hair and feel you can't cope any other way, it's best to get a straight weave from the beginning.
You may also benefit from wearing a protective glove to protect your hands and fingers while using a hot flat iron – you can find them conveniently at most stores that supply beauty and hair accessories.
Always pay attention and avoid distractions while using a hot hair tool; you do not want to burn your ears, neck, or any part of your face while all you want is straight hair.
As you can see, attaining a sleek, shiny mane is not as complicated as you may have thought. Trying a new style is an excellent mood booster, though, and occasionally making an effort with your locks can change your look and make you feel like a million dollars!
Join the celebrities even if you've never seen a red carpet in your life. Be careful, have fun and enjoy your lovely weaves, ladies!