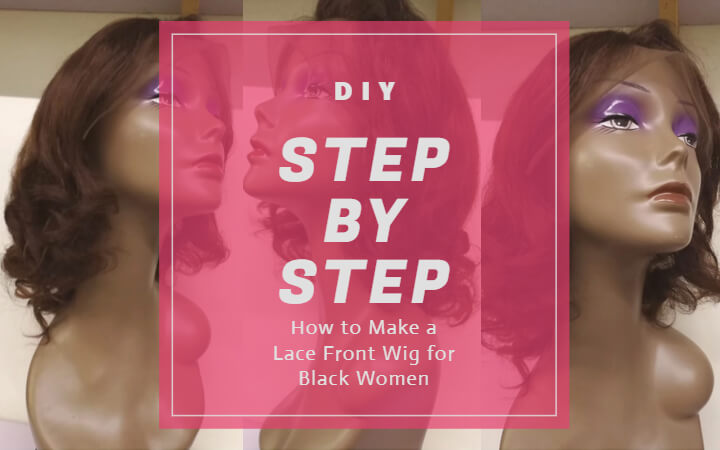 Are you hoping to learn in details the step by step procedures on how to make a natural and homemade Lace Wigs for African American Women? You're not alone in this lace game!
Read on to learn all you need to know about the lace front wigs for black women and the steps involved in making yourself one from scratch.
Before we delve into the making process, here are what you have to know aboutlace wigs closures and its various types.
There are generally three types of lace wigs closures which are, the lace front wigs, the full lace wigs, and the 360​​ lace wigs.
The lace front wigs are a special kind of natural human hair sewn on a unit crown with a closure that extends from ear to ear to give you an attractive and natural hairline.
The front lace wig offers you numerous styling options with a single part way on the front hairline. It is attached firmly to the head, and you can wear it for swimming or any physical activity.
The Full lace wigs are entirely different from the frontal lace wigs; these wigs are made on a full cap with both front and back lace to give you a natural front and back hairline.
The full lace wig offers you numerous styling options; you can part your hair in several ways. Just like the front lace wigs, the full lace wigs are made from natural human hair and is long lasting compared to other conventional wigs.
360 Lace Wigs
The 360 lace wigs have an entirely different look from the lace front wigs and the full lace wigs. These hair wigs are like headbands with hair attached to them.
Just like the front and full lace wigs, the 360 lace wigs are from natural human hair, and as the name implies, it creates a complete hairline around your head.
All lace wigs whether front, full or 360 are great and ideal for any natural woman looking for beauty and glow. These lace wigs come in various styles; curly, straight, blond, and other colors and saves you the stress of frequenting the saloon weekly or biweekly to keep up an attractive appearance.
Now that you've gotten an explicit knowledge of these lace wigs and their differences let get straight to the step by step process of getting you a customized and homemade lace front wig for black women.
The Wig Kit
Before we proceed, I'll begin by introducing you to the wig kit, the wig kit is a wig making pack that contains; one mannequin head, one curved and straight needle, a scissors, one white pencil, some hair clips, a wig cap, pins, a yarn or thread, hair combs, and an elastic band.
All you need to make a frontal lace wig for black women is a wig kit and a customized lace frontal bundle, and you're set to start the making process.
You can buy these items from any beauty store or preferably online but ensure to buy from trusted suppliers for high-quality items.
With these items in place, let's get started with the process!
Step One
First, you'll take the white pencil from your kit and mark out the position of your ears on the wig cap before placing it on the mannequin. This will serve as a guide to help you know the exact spot to set your frontal lace.
Place the wig cap on the mannequin head and hold down with a pin. Place the wig cap out because you need the cap hook to be on the outside.
Using the customized lace front wig, you'll start by securing the lace on the tips where you've marked on the wig cap. Remember to fold the lace before you start sewing to get a clean finish.
Use the clip to move the hair out of the way for an easy sew. It is best to start sewing from both ends of the edges of the frontal row before sewing from the back. This is done to help keep the front row in place for a natural hairline.
I'll advise you sew with a blanket stitch method for a neat finishing. You can do this by sewing under the lace then over, about half a centimeter apart and repeat the process all the way. Always ensure your stitches are straight to achieve a neat outcome.
Step Two
Next is sewing the bundles. First, you'll have to adjust the wig cap properly and pin it to the mannequin using the pins. This allows for easy a sew.
The number of bundles used for making the lace front wig varies with individuals, for most people four bundles will do the trick, while for others with three bundles they're good to go.
If you like your finished lace front wig to be long, I'll recommend a 2020 1816- and 14-inches frontal lace. It's important you double your thread and weft, when sewing from the back for a firm and secure grip.
You begin your back sewing by putting the needle through the web of your wig cap and tie a knot so your stitches remain intact and secured.
Now, take your time with the lace sewing, using the blanket stitch method. Remember to use the longest length (20 inches) when sewing the bundle at the back.
Ensure to sew each track relatively close to each other to enable you to achieve enough hair volume at the back and help avoid the finished wig looking scanty, thin, and artificial.
When you get to the edge of the wig cap, you'll need to use a fold off method if the lace is still long enough. But if it's short, you'll make a knot and carefully cut off the what is left of the lace.
Step Three
For the fold off method, you'll open up the double track, sew through the first web, and sew on the second track directly on its top. Then fold over the track and sew through all the weft together. You'll be required to repeat the process to prevent bumps and keep the lace flat.
It's normal  for first timers to encounter difficulty sewing on a straight line. To help avoid this difficulty, you can place your lace on the path you want to sew with some pins and use the pencil to outline where you need to sew. This also makes the sewing easier.
As you approach the top of the wig, you'll notice your sewing lines will begin to curve; you don't need to straighten it, continue sewing in curved lines.
Note: The tracks at the top near the frontals and the tracks at the back are sewn relatively close, while tracks at the middle are sewn a finger width apart.
To finish up the track, sew through the weft twice and conclude with a knot, I'll recommend you double knot for a stronger grip.
Step Four
Now your wig is almost ready, take wig cap off the mannequin head and cut off excesses from the cap peeking under your frontal lace. Ensure not to cut into your stitching and also avoid cutting too close to the hair.
Turn out the inside of your cap and sew in your combs. The combs are sewn inside the wig cap to secure and add firmness to your wig. Preferably, there should be a comb or two at each side of the head (the front, the middle, and the back).
Using the elastic band from your kit, stretch the wig band from one ear to the other to get your accurate head measurement. Mark out your ear points with the pencil and cut your head length from the elastic band.
Sew the band to your wig cap from edge to edge for a secure and tight lace front wig, ensure to always double your thread and knot twice for a secure grip.
At this point, your lace front wig is ready for styling. Style your newly made lace front wig to any style of your choice, and you're good to add to your glow and put up that shiny natural appearance with your lace front wig for black.
Before I conclude, here are some questions you might want ask:
What's the longest time range I can wear a frontal lace wig for black women?
It's great to save more by making the best out of your frontal lace wig—just in case you're trying to manage your wig until your next wage—but these wigs too, do have an expiration date! Although some frontal lace wigs can last longer, six weeks is the ideal time range you can wear your frontal lace wigs for black women.
Can frontal lace wigs for black women damage my hairline?
No! These homes made and natural front lace wigs cause no harm to your hairline. Because there are no adhesives used, your hairline bears no tension and suffers no hair loss. Remember, these frontal lace wigs are just natural and shiny to brighten your glow and adorn your beauty.
Is there any adverse effect from wearing my frontal lace wigs black women to bed?
Going to bed with your wigs on has two primary disadvantages. First, it gets sweaty and uncomfortable sleeping with your wigs. Secondly, the stretches and pulls on your wig as you roll while sleeping can permanently roughen the straightness of your wig hairs.
conclusion
The above steps are your gateway to making yourself a unique frontal lace wig. It's important you read through this article twice for a deep understanding of each stage before proceeding with your first lace frontal wig for black women.
Hope this article was helpful? We'll love to know your success on your first front lace wig for black women, drop your comments in the section below. Thanks for reading through!