Lace Frontal and Lace Closure both offer essential parts for sew-ins. Many people tend to wonder which is better and how should they choose between the two? Both Lace Frontals and Lace Closures offer benefits to a slayed sew-in that offers the perfect hairline and scalp that will have everyone wondering if it's your real hair or not. Have more questions? Need more answers? No worries, keep reading to find out which is better, lace frontals or lace closures?
What is a Lace Frontal?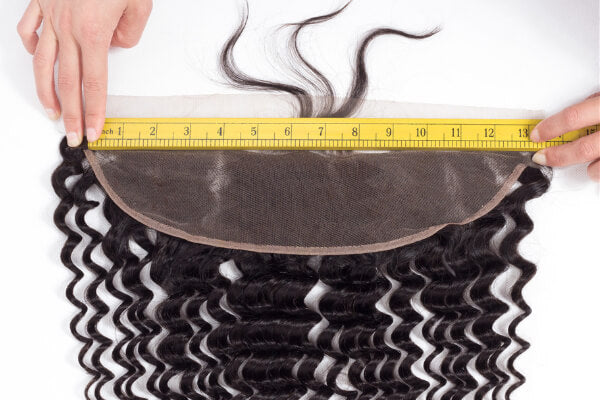 Lace frontals are also called "half wigs" this is due to the size anf portion that the frontal covers, Lace Frontals standard size is 13" across and 4" back. Lace Frontals are generally sewn in with 3-4 bundles of hair. Lace frontals can be placed in different hairstyles and can be brushed backed into a ponytail, unlike a lace closure.
Sizing and coverage of the hair are one of the differences between a Lace Frontal and a Lace Closure. Lace frontals are also called half wigs because they go from ear to ear in length. These frontals offer an entire hairline and are beneficial to many women. 
What is a Lace Closure?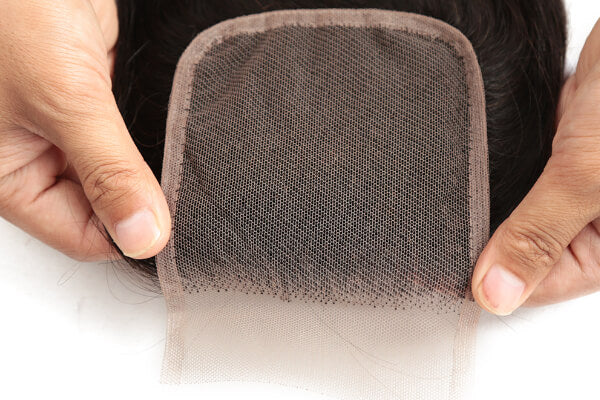 Lace closures are also made of virgin human hair and lace. Unlike lace frontals, lace closure covers a smaller portion of the head.
Lace closures sizes range from 4x4 to 5x5 inches based on head size and demand.
Just like a lace frontal, lace closures are placed on the top of the head. Although smaller, lace closures offer three types of closures. You can choose to your liking, lace closures offer free part closures, three-part closures, and middle part closures.
Difference Between a Lace Frontal and Lace Closure?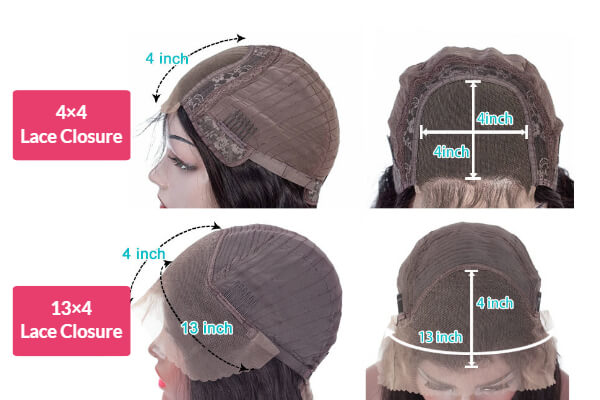 1.Size
One of the biggest differences between lace closures and lace frontals is the size. Lace closures are usually 4x4 inches. Closures tend to be placed in the middle of the head or on the side of the head creating a side part, this is solely based on preference and the desired look. 
Lace closures cover a smaller area and are made to finish off a sew-in install hence the name "closure". Closures, unlike lace frontals, cover the size of a horseshoe creating a "U" shape on closing the sew-install.
Lace Frontals are typically around 13x4 inches. Offering more coverage, lace frontals offer ear-to-ear coverage allowing the hair to be parted anywhere and gives flexibility to the hairline and styling. If you are looking to experiment with a different color or texture, lace frontals are ideal for you. Lace frontals offer the ability to try heat styling and coloring the hair without damaging your hair.
2.Versatility
Lace frontals are used to recreate hairlines hence the sizing being ear to ear, while closures are used to create natural partings that mimic the natural hair parting. Lace closures measure about 4x4 inches and are sewn down into place.
However, on the other hand, frontals are meant to be bonded down to enhance styling and versatility. Lace frontals cover the entire hairline allowing you to create a seamless natural-looking style that can be pulled back off of the face.
3.Cost
Due to size and material, the cost of lace closures and lace frontals are not the same. Lace frontals cost more than lace closures due to size and material. Both can be made into a wig or sewn down depending on your daily use and what you prefer. Lace frontals offer more styling options, closures are better for everyday use and for those who do not mind maintaining the same style.
4.The Quantity
The amount of bundles needed for lace closure differentiates from the number of bundles needed for lace frontals. Since frontals are half wigs, offering more coverage than lace closures, fewer bundles are needed to finish the install or wig. Ultimately, how many bundles are needed depends on various factors and the fullness desired.
5.Hairstyle Vareity
A human hair lace closure offers three parts and the lace frontal only offers a free part. However, a frontal offers a free range that a human hair closure could never achieve. With frontal hair can be combed back and parted anywhere desired without the worry of the hairline. The lace frontal also offers a beautiful hairline, so it is recommended for those who have a thinning hairline and or edges.
What are the Similarities Between Lace Frontals and Lace Closures?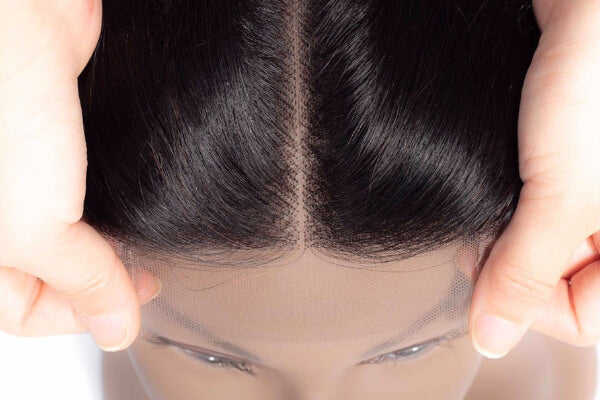 Same Use
Human hair lace closures and lace frontals are both used to create wigs and close off installation, protecting your natural hair from and damage.
Material
Both lace closures and lace frontals are made up of imported lace and virgin human hair.
Details
They can be made of transparent lace, Swiss HD lace or brown lace.
Both lace frontals and lace closure come in a variety of textures.
They both come in various colors and lengths.
Lace Closures or Lace Frontals, Which is Best For You?
When thinking about which one is better, it is truly up to preference and the desired look that you want to achieve. Being so, different people have different opinions and preferences.
If you are looking for something that offers a seamless look with a natural-looking hairline, with the ability to accomplish various styles, lace frontals are recommended for you.
If you have a thin hairline or edge and are looking for a fuller hairline, lace frontals are a better choice for you as well.
If you are minimalistic in your styling and love a good middle or side part lace closures are recommended for you.
Remember various components will be the deciding factor when choosing whether to purchase a lace frontal or a lace closure. Do your research and figure out what is best for your daily needs, budget, styling options, and the desired look. There is no bad choice, both can create a smooth seamless look that will turn heads wherever you go!