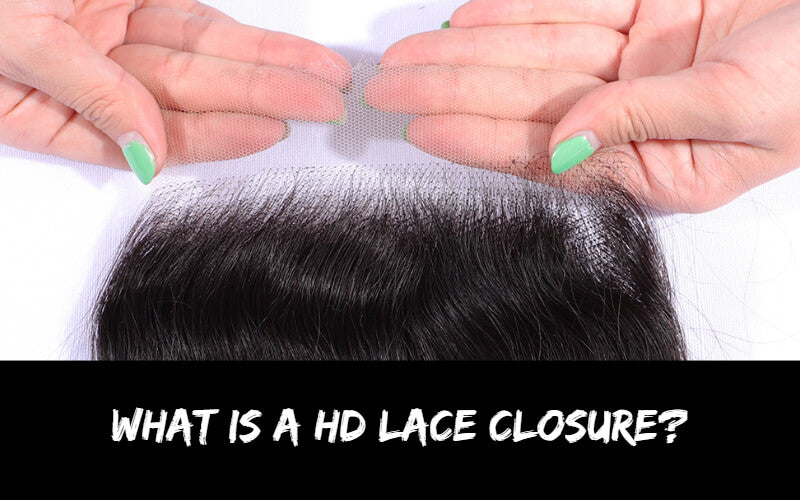 HD Lace Closures have taken the hair industry by storm, are you wondering if you should believe the hype?
For melanated women especially various hairstyles can enhance their beauty, including HD Lace Closures.
HD lace closures are made from HD transparent lace or an undetectable and invisible swiss lace offering less obvious knots and the ability for the lace to lay down flatter. The lace is really thin and offers ventilation.
The quality of your HD Lace Closure is extremely important. Be sure to invest in a top-quality lace closure for the best results.
With such a translucent lace gives the ability to create the "melting" effect that everyone is raving about. Want to know more about what HD Lace Closures are, keep reading!
Why Should You Choose HD Lace Closures?
HD lace is a top tier lace material once known as Swiss Lace that is applied around your edges as if it were your hairline. Unlike regular closures, HD Lace Closures are in a class of their own. HD Lace Closures offers a smooth, natural, and undetectable hairline for all head shapes and sizes. HD Lace Closures are durable, can be dyed, styled, parted, and customized to your liking. Keep reading to see other reasons why you should choose an HD Lace Closure.
What Are The Advantages Of Purchasing A HD Lace Closure?
HD Lace Closures offer a soft, delicate, and light lace that looks more transparent than regular lace.

Almost see-through.

Easily accessible to attach and remove.

Blends perfectly with your skin tone and scalp offering a seamless look.

Lace is softer so it is softer on your scalp.

HD Lace Closures offers a natural hairline while protecting your hairline.
Can You Bleach HD Lace Closures?
Yes! These closures offer a lot of versatility and the ability to personalize the closure to your specific needs. You can easily bleach your HD Closure to perfectly match your skin tone, thus offering a perfect match once applied to the hairline.
Do You Have To Bleach HD Lace Closures? 
No, most HD Lace Closures are transparent and do not have to be bleach to match your skin tone. If you would like to make the scalp a little more realistic try adding makeup that matches your skin tone!
What Should I Avoid When Purchasing A HD Lace Closure?
Try avoiding dense lace closures, closures with thick hairline hair oftentimes results in an unnatural finish resulting in the closure not laying flat.

If you are a lighter complexion, make sure your HD Lace Closure is a close match to your skin tone. Lace closures can be tinted darker, but can not be made lighter.

Avoid plastic cheaply made HD Lace Closures.
Are HD Lace Closures Durable?
Due to HD Lace Closures delicacy and softness they are not as durable as regular lace closures. If you have rough one closures and glue while removing residue we do not recommend the HD Lace Closure. These closures are not easy to repair and the cost is more than a regular lace front closure.
How Long Does HD Lace Closures Last? 
HD Lace Closures do not last as long as regular closures. The best way to get the most and longest wear out of your HD Lace Closure is by making it into a wig and finding a professional to maintain your closure. If you do choose to wear your HD Lace Closure as a sew-in be sure that you are being gentle on a day-to-day basis. On a normal basis, HD Lace Closures last around 2-4 months.
How To Take Care Of Your Lace Closure?
Before purchasing your HD Lace Closure make sure you are familiar with taking care of your lace closure. This is to ensure that you get the maximum life span of your HD Lace Closure.
Cleaning Your Lace

Before you try washing your lace closure, be sure that all glue or residue has been removed before moving on to this step.

Step 1: Gently brush the hair detangling any knots. Try using a comb that is designed for wigs, if not possible try using a wide-tooth comb to brush out knots. Brush hair from ends on up to minimize tugging and shedding.

Step 2: Fill in a basin or bowl with cold to lukewarm water and add a bit of shampoo. Gently dump your wig or closure in and out of the water, making sure your hair is all flowing in the same direction avoiding tangles and matting.

Step 3: Wash inside of the cap gently removing any residue that may have been missed.

Step 4: Allow hair to soak in your solution for 10-15 minutes.

Step 5: Apply conditioner not adding conditioner to the lace or root. Leave for 5 minutes and rinse with cold water.

Step 6: Pat dry using a clean cloth and let air dry.

Step 7: Style

Do Not Use Excessive Heat

When styling your HD Lace Closure opt for low to medium temperatures, using high temperatures will cause damage. Also, try using heat protectants when using heat tools.

Avoid Swimming and Avoid Sleeping Wearing Your HD Lace Closure

While sleeping be sure to wrap up your hair using a silk scarf or bonnet. Also, chlorine and other chemicals in swimming pools can dry out your hair which will cause knots and tangles.
What Not To Do To Your HD Lace Closure?
Just like there are do's when taking care of your HD Lace Closure there are dont's.
Do not be rough with your HD Lace Closure with tugging, rubbing, and adding friction to your closure. Doing so will cause more damage than good.

Try not to use heavy products directly on the hair closure this can cause damage. Try avoiding oils and mousse this will cause damage and tangles that will cause excessive shedding leading to balding spots.

Blot no rub. When drying your hair pat and do not rub. Rubbing causes friction which leads to tangle and frizz. If the hair is soaking wet try squeezing excess water out and try patting again.