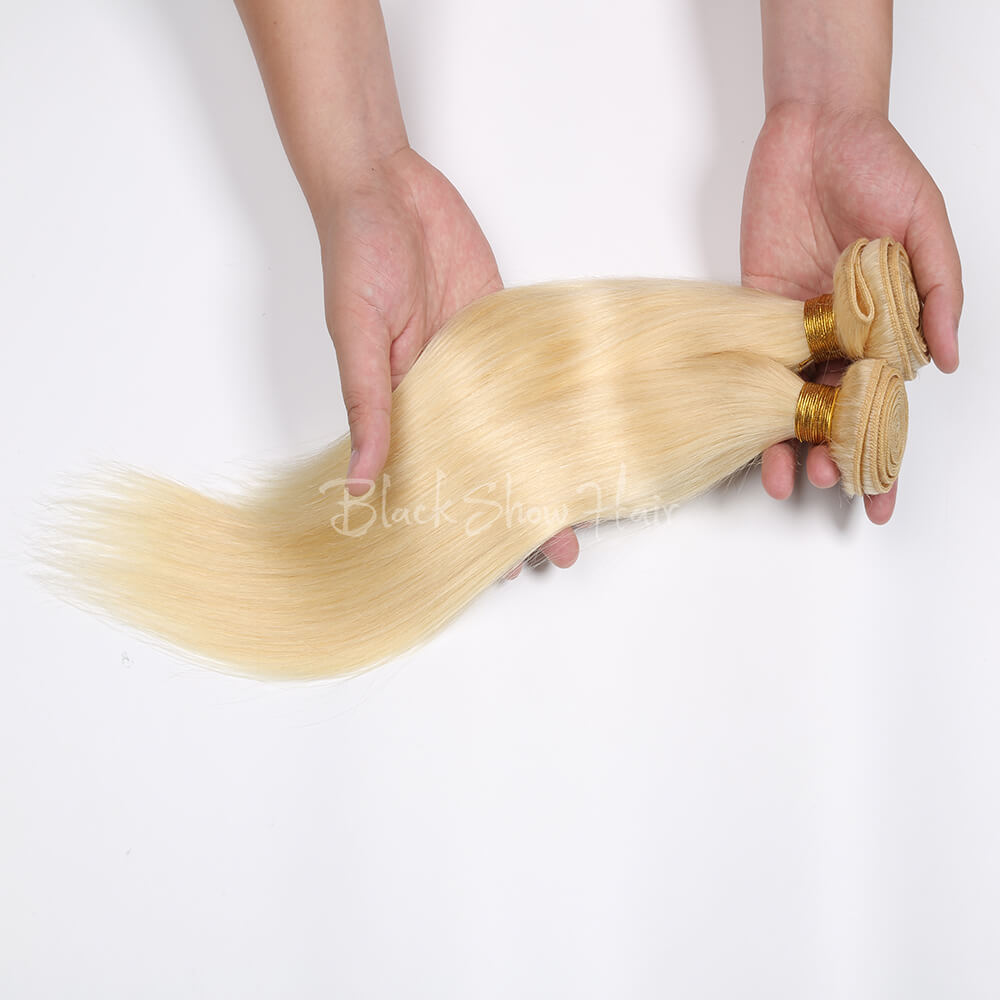 For most women hair color is not just a matter of dying hair; rather it has more significance as it conveys their power and energy. The blonde tresses, in this regard, are often associated with richness and sultriness.
Bright yet light, blonde hair looks gorgeous. It comes in one of those tempting hair shades, and many women want to try to bring a refreshing look to their personalities with their blonde hair.
Going for blondes these days has become very easy, thanks to advanced coloring techniques and incredible blonde hair bundles. All you need is to pick the right blonde shade bundle that suits your skin tone and create a new look.
If you are looking for a perfect hair transformation, Black Show Hair have the right product for you. Our 613 blonde bundles are soft and beautiful for ladies with fair to medium skin tones.
613 Blonde Hair Features
The platinum blonde bundles come in the lightest shade with a yellowish tint.  The color looks strikingly beautiful when you pair them with bright blue lenses.  The unique hue works well with modern and trendy styles.
The soft and glossy 613 blonde bundles are made of high-quality material and look incredibly real. Our platinum blond has a fashionable resurgence and never goes out of style.
The stylish wigs have the palest shade that adds an eye-catching appeal to your personality. From its length to its natural lightest blonde tone, everything adds to your style.
Our 613 Blonde Hair Advantage
There is no denying that dying your hair every now and then is one of the major reasons for hair damage nowadays. Not only hair dying damages your locks but also makes them frizzy, dull and lifeless.
But thanks to 613 blonde hair bundles, you can save your hair from harsh hair dye chemicals. If you love the platinum blonde shade, you do not need to dip-dye your hair. Just put on the hair blonde bundle and enjoy your look.
What You Will Get If You Purchase From Us?
We make everything as simple and hassle-free as possible when it comes to facilitating our customers.   If you want to buy affordable, high-quality blonde bundles then look no further. We offer you some great discount deals, along with money back guarantee if you do not like our product.
Our Services
We value our customers and handle them individually. You will enjoy our fast shipping services that take only 2 to 4 days to ship to the US. You can return your order within ten business days in case you do not like the shade.
Conclusion
All in all,   there is no doubt that platinum blonde shade is a bold style statement and can change your entire look. Our easy-to-wear 613 blonde bundle is a great way to enhance your look and refresh your appearance.
It will make your locks look, healthy, shiny and beautiful.   The lightest shade is an ideal hue and blends with your skin tone.   Our hair bundles are safe and very affordable. Thus, with our 613 hair bundles achieving your ideal look is super easy.