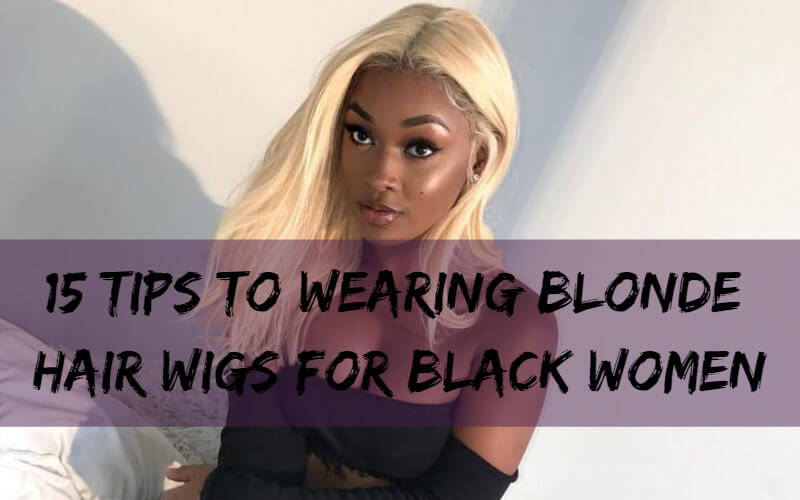 Black women can slay any hairstyle you give to them. We have countless hashtags and forums dedicated to black women and all their beauty. One trend that is continuously growing is luscious, beautiful, blonde hair. After hearing many stigmas surrounded by how ill-fitting blonde hair can look on women of color, we are finally at a place where we no longer agree with the naysayers. Watching celebrities like Beyoncé, Zoe Kravitz, Ciara, and much more rock this signature golden look is giving many of us the courage to go a couple of shades lighter. So, after convincing you to go blonde what's your next step? Well just like any wig you purchase you want to make sure that it looks realistic and flawless in every way. As far as blonde wigs, there are a few tips that will help make rocking this color a walk in the park. So, check out these 15 tips to wearing blonde hair wigs for black women.
1.Find Your Perfect Shade of Blonde
First things first, you need to know what shade of blonde will look just right on you. If you look around, you'll notice just how many shades of blonde there are in this world. For example, strawberry blonde, platinum blonde, dirty, honey blonde, ash blonde, or even highlighted blonde. The point is if you're thinking about making this dramatic change to your hairstyle you must make sure it's going to suit you just right. As African American women we come in all different shades under the sun, which is perfect for choosing which type of blonde color will accentuate our features best. Typically, human hair wigs come in a natural 613 blonde shade. Now, if you're looking to change this color, you will need to go to a beauty supply store and purchase the correct bleach or die that will get the desired color you are looking to have. If you're nervous about dying your wig, you can always take it to a hair salon or specialist that can make the color change for you.
2.Always Bleach the Knots of The Wig
Number one concern black women have when testing out blonde hair is the fear that it may not look natural. To avoid a wiggy looking hairstyle, it's in your best interest to bleach the knots of the wig. Bleaching the knots gives the hairstyle a more clean and natural finish, almost resembling your actual scalp. Now, when it's time to place the blonde hair wig on top of your head, it will seamlessly blend in giving off the appearance that it is growing out of your scalp.
3.Cut or Layer Your Blonde Wig
When you purchase a blonde wig, there are lots of options you can choose from when it comes down to styling the hair. You can add layers, trim it to a shorter length, are you even create a bang to add dimension to your face. Personalizing the blond wig is making it one step closer to looking authentic and natural on you. Sometimes a bone straight long blonde weave can seem unnatural compared to a voluminous short wig unit. It's all about figuring out what works for you and your face shape.
4.Wear a Wig Cap
Wearing a wig cap is the best way to ensure that your natural hair is secure and as flat as possible under your wig. We will continue to say this as much as possible, "you need your blonde hair wig to look natural." As I'm sure, you all know sweat and oil can build up under the wigs as you about your day. If you place the blonde hair on top of your head directly with no barrier, then these oil's will seep into your wig causing it to slip and look unnatural. These caps work as a base layer and create a smooth and even surface for what goes on top of it, and in addition to that, they will always keep your wig in place. You do not want your unit looking lumpy and unattractive, so do yourself a favor and invest in a good quality wig cap first.
5.Make Sure the Wig Has Parting
Playing with the part of the hair is very important. You would be surprised on what big a difference your wig will look like if you learn how to train the part. The reason why this is so important to do is because wigs come from a factory with an intended hair direction and part. Once you have the unit, you sometimes think that this is the only part your wig can have. On the contrary Instead of fighting with the direction of the part try moving it to the side or straight down the middle. Customizing the part to your liking makes it one step closer to looking natural and suiting your personality. Also switching up the part makes for the different hairstyle you can try. If you choose a blonde wig with no parting, it can look fake and is a telltale sign that you are wearing a wig.
6.Beware of Blonde Synthetic Wigs
Blonde synthetic Wigs are not only known for excessive shedding but also looking very plastic and shiny. Since synthetic wigs are a combination of fibers and not human hair it tends to tangle up and create knots. We're not saying stay away from them all together but know that the life expectancy on these units are very short especially when they come in blonde shades. We would hate for your first time trying a blonde wig to be a bad experience. On the upside synthetic blonde wigs are perfect for those who are scared to invest too much money in a permanent hairstyle. With these options, you get to try a temporary look for a low cost and get the best of both worlds. If you start to fall in love with the blonde color, you can then take the time to invest in a better-quality wig that will last a more extended period.
7.Try Rooted Color Wigs
The goal for blonde wigs is to look as natural as possible, and unless you were born with this shade, it's common to have different color roots. Mostly everyone has different gradients through their hair. When a blonde wig is the same color throughout it looks very fake. Purchasing a unit with honey blonde or brown roots will enrich the overall look and appear more natural. Wigs with rooted colors also mimic that of our hair which makes them excellent candidates. If you can't find a wig with color at the roots, look for one that has a blend of two different colors or takes it to a stylist for dying. You can also take the time to add highlights and low lights that are two shades darker from the wigs base color.
8.Lay Down the Blonde Baby Hairs
Time and time again we will mention how vital it is to add baby hairs to any wig unit you purchase. If your unit's hair does not come with edges, you can create them by trimming a few of the hairs in the front of the wig; this will present a more natural hairline. Make sure all the sections of the baby hairs are cut to the same length if it is not it will appear uneven, unkempt, and very unnatural. Wet the strands first; this will make them easier to style. Next, use a clear gel and swoop the edges of the wig with a toothbrush. Avoid using your natural baby hairs if it does not blend with the blonde wig unit.
9.Use Light Hair Products on Blonde Wigs
One thing you want to stay away from is using heavy styling products on your blonde wig. Since harsh chemicals are what we use to strip black hair and attain the lighter color, it is already more fragile than other wigs. Using heavy products will cause the unit to matte and give an oily appearance. The oilier the strands are, the stringier and more unappealing they will all look. Try opting for lightweight styling products such as hairsprays, serums, and mousse. Stray away from heavy gels, hair cream, and hair thick hair lotion.
10.Stay away from Over-Heating Blonde Wigs
Heat is the number one enemy for blonde hair wigs. Excessively styling like using flat irons and curling wands can be dangerous golden hair wigs. Your best bet is to use your heating tools on the lowest setting. Another method you can opt for is wrapping your wig with bobby pins to maintain a straight look. Or use rollers and flexi rods to achieve a curly style. With either of these two methods, you will keep a sleek and healthy-looking blonde wig. Too much heat will leave the hair feeling dry and brittle, on top of dulling its shine. It's always a great idea to give your wig a break from over styling and throw it up into a quick and easy bun from time.
11.Beware of Shampoos with Sulfates
Sulfates are what causes your shampoo to lather and produce bubbles. Unfortunately, these chemicals can strip away natural oils and hair proteins. Since blonde hair is already black hair that we remove colors out of, these shampoos will do the same to your wig. You will need to invest in a shampoo with no sulfates if you want to keep your hair in perfect condition.
Also, to keep blonde hair looking bright and lovely try washing it with purple shampoo at least once a week. The purple shampoo helps to maintain and balance the colors that are in blonde hair. But please keep in mind that purple shampoo is not for cleaning your hair so you'll need to purchase a cleansing shampoo free of sulfates that will keep your wig fresh and clean.
12.Keep Blonde Wigs out of The Sun
I know we all love the sun. Unfortunately, overexposure to the sun is not only damaging to your skin but your blonde wig as well. These UV rays can dry out the strands and turn your blond hair into a brassy shade of orange. If you do plan on stepping out to the beach or any event outside we encourage you to wear a gorgeous hat that can protect the hair. Another option is investing in a UV/ heat protectant serum. You can rub the serum throughout the wig unit before leaving the house, and it can ensure that your blonde hair doesn't change colors on you right before your eyes.
13.Consider lightening your brows
I noticed that some women might like the contrast of their dark eyebrows with their light color hair. Sometimes lightening up the brows will make the blonde wig look more natural and fitting to your skin. That doesn't mean you have to die your brows platinum blonde but making them a lighter shade that isn't so dark can be very beneficial. If your nervous about bleaching your eyebrows use a lighter color eyebrow pencil and you can achieve the same look.
14.You may have to Switch Up Your Makeup
What most people tend to forget is changing your hair color may mean you may have to switch up your wardrobe and makeup. Sometimes hair with color goes best with a dramatic face of makeup. Going for the natural look will cause your blonde wig to stand out more than necessary and will appear very fake. Some women notice as soon as they go from a cool to a warm shade or vice versa that their previous way of doing makeup will look very different. This switch up is the perfect time for you to try something new and buy some excellent new products in the process.
15.Be Confident!
Lastly, our most important tip is to remain confident when rocking any blonde hair wig. People can sense if you're feeling insecure, or uncomfortable with yourself just as much as you can. The moment you wear your blonde wig out show the world how confident you can be and embrace this fun vibrant hairstyle with ease!
What Are Your Favorite Tips When Wearing Blonde Hair Wigs?
As you can see blonde hair can look amazing on black women as well as anyone else when you apply the correct tips. Now we hope that you have the confidence to pull off these Goldie lock hairstyles like we know you can. Do you have any tips or tricks when wearing blonde hair wigs? Comment below to let us know, we would love to hear from you!