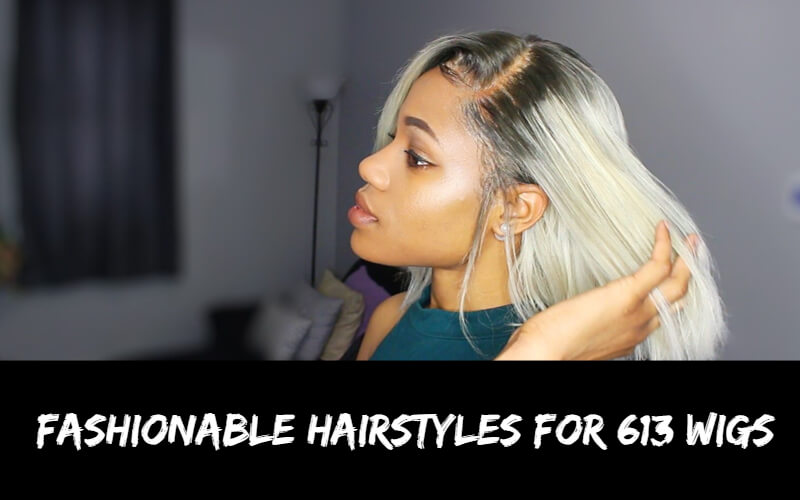 613 blonde hair wigs have become increasingly popular within the past few years. Women worldwide now prefer these colored bundles and wigs. Black Show Hair 613 blonde hair wigs are crafted from human hair. They are also partially machine-made and hand-tied using a swiss lace material. 613 hair color compliments various hair skin tones. Another benefit when purchasing our 613 wigs is the lightness and airiness of each unit.
When shopping for a new 613 blonde unit take into account that our wigs offer four inches of lace in the front of the wig. This means you can part the hair in front without worrying about your edges showing, ensuring that your styling is easy.
Additionally, our wigs are pre-plucked, making our 613 blonde wigs ready to wear straight out of the box, restyle according to your preference and style.
Fashionable Hairstyles For Your 613 Blonde Wigs
We do not see the 613 blonde hair wigs going anywhere anytime soon! These wigs are versatile and can be worn according to your needs and sense of style. Our 613 blonde wigs also come in various lengths and sizes. Lastly, your wigs are able to be permed and styled depending on your occasion.
Have you jumped on the 613 wig train and have no idea how to style it? We are here to help, keep reading fashionable hairstyles for 613 hairstyles.
Short Bob
You can never go wrong with a bob in our opinion. If you love short hairstyles with a lot of body and nice face-framing, you need to try a blonde 613 bob wig. This style is easily attainable and extremely versatile, while casual enough for everyday wear.
Bob Wig Features:
150% hair density
Straight hair texture
100% virgin hair always
8-14 inches of hair
Can be dyed easily due to hair color
Swiss lace
Perfect hair color for any skin tone
Pre-plucked hairline
Average head size cap
Shed free
Tangle free
Heat styling tools can be used
Deep Waves
Deep wave hair is a popular virgin hair texture, known to blend well with ethnic hair textures. If you're in search of a shiny abundance of fullness this is the texture for you. Deep waves also offer super versatility, more body to your natural hair, low maintenance, and also can be styled in many ways.
Deep Wave Features:
The texture is versatile and full
180% density
Length is 10-24 inches
100% virgin hair
Blonde hair color
Swiss lace
Pre-plucked hairline
Average hair cap
Effortless look
Natural curls
100% human hair
Swiss lace
Tangle free
Easy to maintain
Shed free
Can be parted easily
Heat styling tools can be used
Curly Lace Front
613 wigs are perfect for every occasion, while it is casual enough to wear daily. Curls rather big barreled or small barreled offer just the right amount of elevation for every style. Curls will always be a classic and elegant hairstyle ideal for everyone. From beach waves to s-curls, curls are perfectly based on your desire and occasion.
Curly Lace Front Features
150% density
10-24 inches in length
Can be dyed
Versatile hairstyling options
Body and fullness
A huge amount of variety
Effortless look
Natural curls
100% human hair
Swiss lace
Average cap size
Tangle free
Easy to maintain
Shed free
Can be parted easily
Heat styling tools can be used
Body Wave 
Body wave is a looser curl pattern that is extremely popular. Body waves offer a soft and natural-looking wave that flows perfectly together. There is something about wavy hair that takes a few years off and makes you look youthful, effortless, and carefree. Try finding the
Body Wave Features:
Effortless look
Natural curls
100% human hair
Swiss lace
Average cap size
Tangle free
Easy to maintain
Shed free
Can be parted easily
Water Wave
The 613 water wave is another perfect style suitable for every skin tone. The high-quality and long-span also makes it worth the investment when purchasing. Water waves also are elegant and chic, but natural enough to wear daily. If you are still unsure about the hairstyle to choose, water wave should be a top choice.
Water Wave Features: 
Virgin human hair
The density of 130%
10-30 inches in length
Swiss lace
Glueless cap
Blonde 613 hair
Transparent lace
Can be dyed
Can be lifted
Heat styling tools can be used
Tangle free
Shed free
Our Final Thoughts
Our 613 human hair wigs are available and will continue to be popular within the hair community. Black Show Hair wigs are easily worn, comfortable, high-quality, offering various lengths and sizes to suit different looks and occasions. So, remember the next time you are shopping for the perfect 613 wigs and wonder how you are going to style it try one of the hairstyles above to save you money and time.