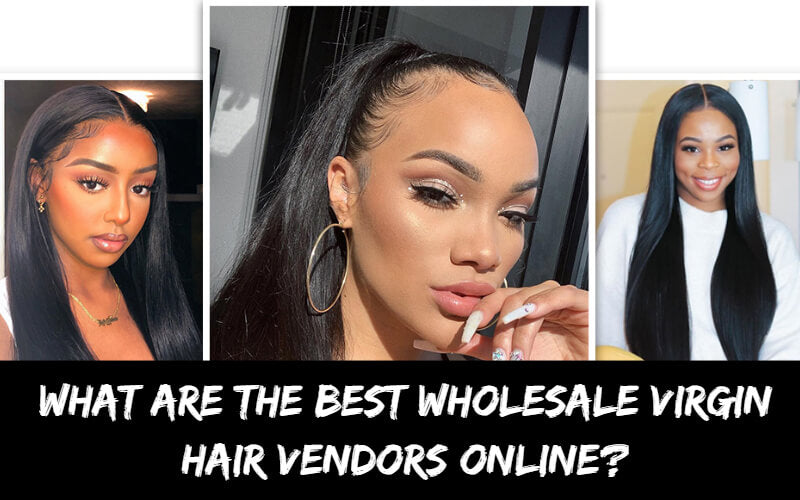 Hair wigs are extremely important amongst women, and the virgin hair market has been booming like never before. With the ever-evolving times, human hair wigs have become an everyday necessity for protective styling. With the popularity of virgin hair, the opportunity to become a successful wholesaler of virgin hair is now. Virgin hair wholesalers aim to work with the best hair vendors, providing their most favorable prices to get their hair out to potential customers.
With the popularity, there are many wig suppliers out there to choose from. No matter which wholesale virgin hair supplier you choose, you can receive the wholesale price. If you're currently on the market looking for wholesale vendors continue reading, we are here to help, and we at Black Show Hair should be your number one choice! This article will answer all of your questions including how to find the best wholesale raw hair supplier and what you'll need to pay attention to when purchasing wholesale.
Information You Will Learn While Reading This Article?
Characteristics of the ideal virgin hair vendor?

Where to find the best wholesaler of virgin hair vendors?

How can you find virgin hair vendors?

Questions you should ask your potential suppliers when looking to purchase?

Why do we recommend Black Show Hair?
Characteristics Of The Ideal Virgin Hair Vendor?
The two things that are needed to meet the needs within the booming hair market are production capacity and quality assurance. Suppliers with factories can continually provide products based on the trends within the hair market. They also have certain standards and guarantees with the quality of their wigs, weaves, and bundles.
Do They Have An Independent Designer?
Ideal virgin hair suppliers develop fresh new products independently according to market trends while designing human hair wigs that will meet the needs of potential customers. Having an independent designer allows continual updates to products to meet the needs of customers. Suppliers who provide product improvements and custom designs provide stronger backing for their wholesale providers.
Market Positioning
Market positioning refers to regional markets and the supplier's supply. Usually, hair suppliers will have their preferred brands, and you would be allowed to evaluate them using their reviews, popularity, and market share.
Do They Provide Exceptional Service?
When reading the reviews be sure to look at a few key factors. Are their deliveries received promptly, are they willing to correct the mistakes that are made, is their pricing feasible for your sales model and is the communication up to par, etc. At Black Show Hair we pride ourselves on everything listed above.
Where Can You Find Virgin Hair Wholesale Vendors?
With the e-commerce market booming, hair suppliers are changing from single producers to enterprisers, choosing to integrate their sales and production. Working directly with the factory is most convenient and profitable for you. If you have trouble finding this information, you can opt to work with wholesale hair suppliers via the internet or try visiting a company you're interested in.
Using The E-Commerce Platform
When choosing the E-Commerce route, remember increased pricing for your product is inevitable. Regardless of what platform they're choosing to use some fees are associated when they're used. You can of course save time and trouble finding a hair supplier going this route. However, increased pricing and fees will be associated with convenience. Black Show Hair offers both options for your convenience.
Using The Virgin Hair Factory
When looking for cheaper virgin hair bundles, wigs, and frontals, visiting virgin hair factories is the perfect option. This way you can feel the hair while getting to know the suppliers. Also, you can maximize your profits.
Finding The Best Virgin Hair Vendors
Maximum sales equate to selling high-quality virgin hair. Cheaper hair may seem cost-effective initially, however selling low-quality hair, customers will not purchase from you. If you think you've found a good match the next step is to purchase samples and test out the hair.
Do a burn test and bleach test to see how the texture of the hair changes. Another way is by searching YouTube to see if anyone has reviewed the hair, go through the comment section also.
What Should You Ask When Speaking To Your Potential Supplier?
Below we have a few questions you should ask your potential suppliers, feel free to add or omit any questions.
What makes your hair more superior to other wholesalers on the market?

Is your hair double weft or triple weft?

How do you grade your hair and how are they different?

Do you provide virgin hair, Remy hair, or raw hair? Also, what is the difference?

Are your hair cuticles aligned?

Is your hair unprocessed or processed?

Can you provide a certificate of authenticity?

Are you wigs machine-made or made by hand?

Where is your hair sourced from?

Is your hair 100% human hair? Am I able to color, bleach, or add heat to it?

How long does it take for delivery once ordered?

If there is an issue with my order, what is your process of rectifying the issue?

What is your preferred line of communication; phone, email, or zoom?
Why Should You Choose Black Show Hair?
Black Show Hair is the leading factory based in China. Our wholesale pricing for human hair products is direct factory pricing with you in mind. Reducing the middle man saves you a great amount of time and money. Black Show Hair provides high-end products including human hair wigs, bundles, and frontals.
Black Show Hair provides some of the best wholesale pricing, meaning our wholesale prices are lower, and when at the same price, our quality is far more superior.
Black Show Hair website is professional and easy to navigate and a safe online environment. You never have to worry about your card information being used inappropriately. Our technical team is here to assist during and after your sale has been completed.
Quality assurance guaranteed.Our hair is 100% human hair. Meaning our hair can be dyed or bleached. Our hair also works well with heat tools as well.