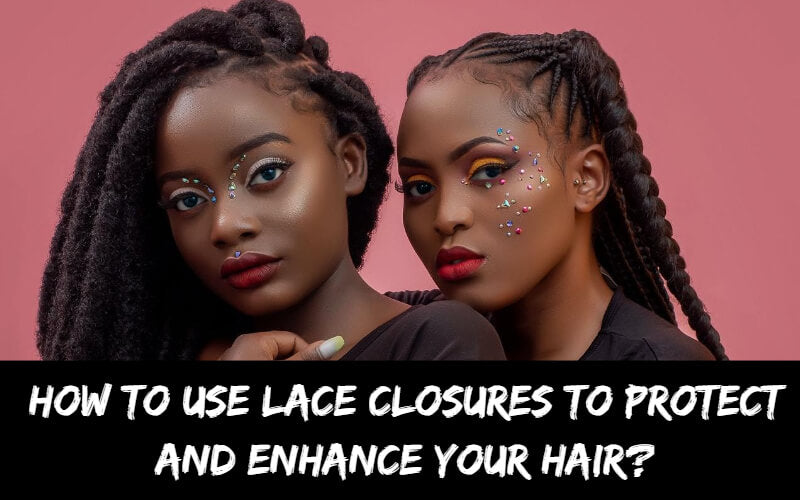 Why isn't my hair growing? A common question is asked and explanations are needed. We are here to assure you, your hair is constantly growing. Your hair grows around a quarter of an inch monthly. The issue you are facing is the inability to retain your length. Many factors cause damage to your hair including weather, products, and improper care.
Protective hairstyling preserves your hair and protects your hair from being damaged and constant manipulation, this is where protective hairstyling comes in.
Lace closures are available in silk or lace material, and consumers generally prefer lace due to the thinner and more leveled appearance on your scalp.
Lace front closures make your sew-in weave and wigs installation appear extremely natural. A lace closure is a piece of cloth that is threaded with human hair strands tied on dark brown or beige lace and applied to finish off a sew-in or wig. They are perfect for people looking to protect their hair without having to give up the look of a natural hairline and part.
What Is Protective Styling?
Protective styling limits the amount of stress and manipulation of environmental factors, products, and heat tools by tucking away your hair and ends. Although protective styling allows you to maintain your hair when improperly done these can cause more harm than good. Protective hairstyling includes things like lace closures, wigs, braids, two-strand twist, box braids, and the options are endless. If you find yourself having trouble finding inspiration a quick, google search will help.
The importance of getting a protective hairstyle is very clear, they keep your hair healthy and strong due to giving your hair a break. When protective styling isn't used on a normal basis you are more suspectable of more breakage.
Benefits of Wearing Protective Hairstyles
It Protects Your Hair - Although obvious, some may wonder what exactly is the protective hairstyle "protecting". As listed above, protective hairstyling protects your hair from manipulation of the hair, heat tools, chemicals, products, and continuous brushing, tugging, and pulling.

Less Time Installing Hair - Lace closures are easy to install and require less time than a regular sew-in with regular hair extensions and leave out in the front. On average when opting for a lace closure you will save between one to two and a half hours of sew-in in time. Lace closures are your go-to option for women who enjoy protective styles protecting their hair and love the comfort of less time getting themselves ready.

They Last Longer - With property maintenance lace closures last a long time. Lace closures are also more suitable for warm weather. They do not require a lot of gluing and customization

Hair Manipulation - Touching, pulling it into buns and ponytails, combing, twisting, and untwisting daily is considered manipulation. When constantly manipulating your harm you are more prone to breakage. Doing protective styling will allow your hair the much needed break and rest from the manipulation.

Weather - Imagine, the perfect flat iron then boom along comes the rain and humidity. Rain and frizz, the sun and UV's, cold winter hair, and dry brittle hair. Although a proper regimen and a ton of care can combat the weather it is much easier to tuck your hair away in a protective style.

Variety Without the Commitment - Want blonde bundles with lace closure, a burnt orange wig, or bring fuchsia braids? Protective styling allows a variety of hairstyles and colors without the worry of causing damage to your hair.

Worry-Free - If we are being honest, sometimes you just don't want to be bothered with your hair. Protective styles allow that freedom and convenience.
Should I Try A Lace Closure For Protective Styling?
There are various options when looking to install weaves and extensions. No matter the method you choose, your main objective should be for your style to look as natural as it possibly can. There are many benefits of using closures to attach extensions to your hair while protecting your hair. When you wear weaves continuously, the extensions need to be attached to your hair a certain way. Lace closures allow the process of doing this quickly and easily since the piece would be added to the perimeter, sewn, glued, or hairspray down.
Protection
The main benefit of using a lace closure to protect and enhance your hair is the amount of protection it provides. Your natural hair is covered by the mesh or lace part of the hair closure, while your hair underneath is braided. This means that hair styling will not affect or cause damage to your hair. The best option is to use the lace closure and the perfect option.
Styling Your Hair Worry Free
Regular sew-ins with leave out require you to "blend" your hair with your extensions, which then causes breakage at the top and front portion of your hair due to the continued heat tools, products, and manipulation.
Another pro of using lace closure is the ability to dye and color your extensions and lace closure without damage to your natural hair. With lace closures, you have a range of styling options and color options without the hassle and worry of damage to your hair.
It looks Natural
One of the many challenges that extensions provide is that they can noticeably see as a weave.
You will not have those issues with lace closures. Lace closures are best known for it's ability to look more like your scalp. Furthermore, with the hair being attached to the lace, the knots are not as noticeable when plucked and lifted properly.