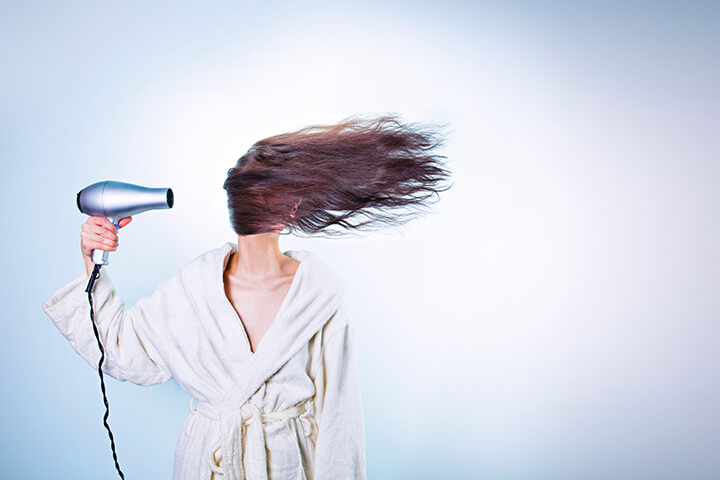 Virgin hair allows you to blow dry, curl, straighten, dye and style as you would your hair. There are some critical maintenance guidelines that if not considered, the longevity of your hair extensions are in jeopardy. Hair extensions are a great hair accessory that allows a "new do" with little commitment. Experimenting with colors, textures, and lengths while protecting your natural hair is a win-win for many women. Although, hair extensions allows diversity, incorrectly maintaining them will decrease the usage of the extensions significantly. Whether virgin or human hair, all hair extensions need to be cared for to extend the life and usage of them. Your effort put towards the care and maintenance of your hair extensions is essential to the versatility and durability. Want to know how to take care and maintain your virgin hair extensions? Look no further, here is your ultimate guide to maintaining your virgin hair extensions.
Shampooing Your Hair Extensions
Step 1: Separate Your Hair Extensions
Separate your hair into four quadrants, twisting each into a bun and clipping it away.

Ensure you are using a shampoo made explicitly for sew-ins. These types of shampoos help keep detangling at a minimum, while also maintaining your hair's moisture balance.
Step 2: Moisturize Your Natural Hair
It is critical that you moisturize your scalp to ensure that your hair is getting the right moisture balance.

Find an oil that mimics your hairs natural oil secretion. Olive oil is a perfect example, place a small amount of olive oil and dab your fingers in it.

Apply the olive oil along each scalp portion on your head.
Step 3: Saturate Your Hair With Warm Water
Fully saturate your head under warm water.

Apply a small amount of shampoo in a bottle mixed with water.

Evenly dilute the water by shaking the solution.

Carefully pour your mixture along each track.

Massage your track and scalp using your fingertips. Avoid the usage of your fingernails; this may cause damage to your scalp.
Step 4: Washing Your Hair
Use a sulfate free shampoo. Sulfates are cleaning detergents in shampoos that cause them to foam. As useful as they are at cleaning, sulfates can dry out natural oils in your hair. Sulfate can cause split ends and make your hair look dry or frizzy over time.

When washing your hair underneath your sew-in, run your hands and fingers from the roots of your hair to the tips of your sew-in-weave. Doing this helps move dirt away from your scalp, so it's easily removed and washed out.

Pull the shampoo through your extensions vs. washing in a circular motion to help detangle your extensions while cleansing the hair extensions.
Step 5: Conditioning
Conditioners give your hair back its body and shine. Be sure the conditioner is worked into the roots of your hair.

Use a spray bottle with diluted conditioner.

Spray the solution to your scalp.

Release sections and detangle hair extensions with a wide tooth comb.

Allow the solution to sit on hair for a few minutes, then rinse with warm water.
Step 6: Drying your hair and Extensions
Be sure your hair is dry thoroughly dry, when extensions are sewn in. A sewn in left wet runs the risk of acquiring mold, which will leave your hair smelling far worse than before.

Use a diffuser attachment on your hair dryer or a hooded dryer to alleviate heat damage.
Shampooing Your Clip-In Extensions
Clip in hair extensions is a great way of adding volume, length, and depth to your natural hair. Whether you are looking to add color, length, or highlights clip ins allow you the option of changing it up. Here's how to wash your clip in extensions:
Step 1: Comb them before washing so they won't get more tangled.
Step 2: Fill your sink or bathtub with lukewarm water and immerse them.
Step 3: Gently glide the shampoo through the extensions following the cuticles. Do not rub shampoo into them to avoid tangles.
Step 4: Rinse thoroughly with warm water.
Step 5: Add Conditioner applying the solution the same way as the shampoo.
Step 6: Rinse thoroughly.
Step 7: Once all of the conditioner and shampoo is thoroughly rinsed off the extensions, squeeze the excess water out and brush your extensions.
Step 8: Allow extensions to dry naturally.
Deep, Loose, Kinky Curly Hair Maintenance
Using The Right Conditioner
Conditioning your hair extensions will add shine and gloss to your extensions. However, submerging them into too much conditioner will leave your curls limp and weighed down. Following the "less is more" principle is best. The right amount of conditioner will leave your extensions looking shiny and soft. Kinky curls tend to be drier than other textures which requires a good amount of conditioner. You should use a good hydrating conditioner.
Heat Protectants Are A Must
Too much heat leaves your virgin hair extensions damaged, and your curls will not convert back if damaged. If you plan to straighten your curly extensions after some period of use, invest in a good heat protectant.
No Alcohol Based Products
Alcohol-based products are drying and using them on your curly hair extensions will make them shed. Be sure to read the ingredients of products you choose to use on your hair extensions to avoid this problem.
General Rules Of Thumb For Curly Hair Maintenance
After washing your curly hair, spray little amounts of leave in conditioner or curl activator. Do not go overboard with hair treatments.

Avoid rubbing sections of hair against another this will cause breakage to the cuticle.

If you straighten your curly hair, wash with shampoo and conditioner to restore the curls.

Deep condition your extensions at least three times a month.
General Maintenance For Your Extensions
Do Not Sleep With Your Extensions Wet

Wet hair promotes matting and tangling. Placing pressure on the bonds and cuticles of the hair will cause a lot of damage.
Brush Your Extensions Correctly
Whether you are brushing your extension dry or wet, you must brush them gently. Remove tangles slowly without pulling your hair extensions. Detangle from ends to root. If brushing extensions while wet use a light detangler and an extension hairbrush. A hair extension brush stops the bristles from becoming stuck or disturbing the bonds in any way. Wavy hair needs brushing after washing since curls become frizzy with constant brushing. Slightly dampen and scrunch up the curls to freshen them. Straight hair should be thoroughly combed morning and night.
Sleeping Maintenance For Your Hair Extensions
Sleeping improperly will cause damage to your virgin hair extensions like tangle and snagging. Here are a few steps to maintaining your extensions properly while you sleep.
Wrap It Up
Leaving your hair unattended and unwrapped while sleeping causes lost in moisture and knots from friction. To avoid this problem wrap your hair up using a silk or satin scarf or bonnet. These materials are more gentle to your hair vs. cotton and not cause breakage when your hair rubs against while you sleep. Silk and satin does not absorb moisture from your hair as cotton does.
Get A Satin Pillowcase
Adding a satin or silk pillowcase will add more protection to your hair extensions.
Prep Your Hair Extensions
Braid your hair extensions into large loose braids. Try using this opportunity to prep your hair for the hairstyle you plan to wear the next day.
Maintaining Your Hair Extensions Equates Longevity
Treating your hair extensions as if it was your natural hair will not only enhance the hair but also provide longevity. Everyone's hair is different so keep an eye on your hair and your extensions to see how often you'll need to wash and condition your hair in addition to the best products for you. With a solid routine, you will be able to maintain your extensions for months on end. Have any hair extension maintenance tips, let us know!